Why travelers trust Travel MedEvac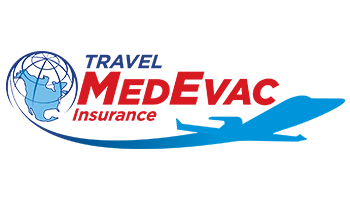 Travel MedEvac Insurance is the premium medical evacuation coverage that brings you to your home hospital of choice where you can get the continued care you need, where you want it, from your trusted hospital and doctors. Travel MedEvac Insurance has no pre-existing exclusions or waiting periods and utilizes only the highest accredited global network of air ambulance companies in the world for your transport. Available to both U.S. residents and non-U.S. residents with daily rates begin around $3.00 per day. Annual plans are also available for both U.S. and non-U.S. residents as well as Mexico Only plans available to U.S. and Canadian residents.
---
Important traveler information from Travel MedEvac
Insurance Plans
Document Library
Provider Contact / Claim Information
Regular Business Hours
Monday - Friday 8:30 a.m. to 5:00 p.m. MT-AZ
Email Contacts
Active Plan Holders & Renewal Questions
assist@travelmedevac.com
Information on Travel MedEvac Plans
info@travelmedevac.com
Toll Free Number
1-888-963-4933
Direct
602-344-9225
Fax
602-551-8968
General Questions - Get A Quote
Press "1" at the prompt (if after business hours, please leave a message and an associate will follow-up with you during regular business hours)
If suffering from a serious illness or injury, call your local emergency services and seek immediate help. Once you are hospitalized either you, or someone on your behalf, should call Travel MedEvac.
Hospitalized Plan Holder
Press "2" at the prompt (Emergency Service Team Available 24 hours a day, 7 days a week).
Hospitalized Non-Plan Holder
Press "2" at the prompt and be connected with our preferred provider and industry leader Air Ambulance Worldwide to secure a quote for service.
Current Plan Holder Questions and Renewals
Visit our online renewal for a safe convenient way to renew your plan. If you would like to speak with a representative, please press "3" at the prompt.
Mailing Address:
Travel MedEvac
2550 E. Rose Garden Ln. #72566
Phoenix, AZ 85050
Frequently Asked Questions